I've been waiting for real autumnal weather to write this up. You know the kind I mean: chilly, with a bit of drizzle in the air, maybe even a hint of frost. The kind of weather that makes you want to stay indoors, preferably with a hot cocoa and slowly toasting toes by a warm fire (a real woodfire or a gasdial turned up to 7, who cares).
However, global warming, confused weathergods or whomever is to blame, decided otherwise. So here goes.
End of October I got invited to sample some winter cocktails. Venue of the evening was Hotel Le Berger, a quaint little hotel behind the Porte de Namur in Brussels. There's a story: it used to be a rendez-vous hotel built during the interbellum. The patrons had the hotel designed in such a way that wealthy entrepreneurs and their mistresses could enter and leave the hotel without risking to bump into any of the other visitors.
The hotel still has this décor of beginning of the 20th century with its dark painted corridors and rooms with French women's names. The entrance and exit are not closed off anymore. A century later, morals have changed considerably: no more separate entrances, elevators and shortcuts.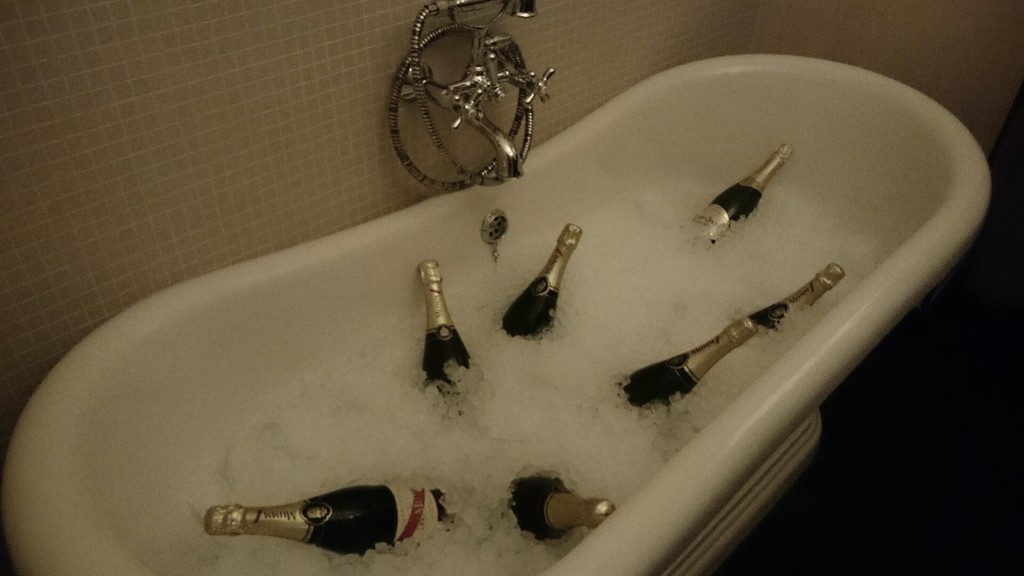 We were ushered to the second floor into a first room. In every room we would enter tonight, a bartender – or should I call him a mixologist – offered us a cocktail list to choose from and the hostess would give us some clues so we could solve the "Mystery of the Stolen Cocktail Recipes". According to Pernod Ricard Belgium, cocktails can be drunk in winter if you add ginger, honey or festive bubbles to the mix. And how right they are.
After that first room already we decided to share cocktails instead of each having a different drink. At the end of the evening we even managed to guess – sorry Sherlock, at that time, deducing was an art far beyond our capacities – who the culprit was!
Before heading home, we needed some solid food to counter the beverages. Luckily, the ground floor houses Vini Divini, a minute enoteca and restaurant. The menu is as wee as is the restaurant but offers great Italian fare. The waiters are funny and lovely. A fine discovery, you should definitely go and try it for yourself!
A perfect evening.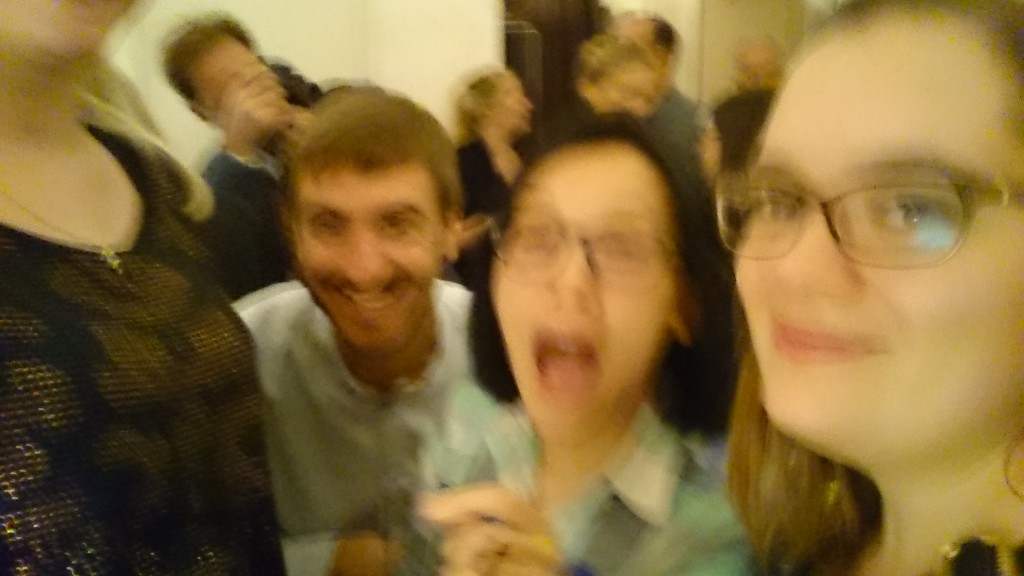 Jameson Mule
40 ml Irish whiskey Jameson
10 ml freshly squeezed lime juice
100 ml ginger ale
highball glass filled with ice cubes
Neon Nights
40 ml Absolut Vodka
25 ml lemon juice
25 ml grapefruit juice
15 ml sugar syrup
5 ml ginger syrup
Shake these ingredients and strain in a highball glass filled with ice cubes, add sparkling water and decorate with raspberries and grapefruit zeste.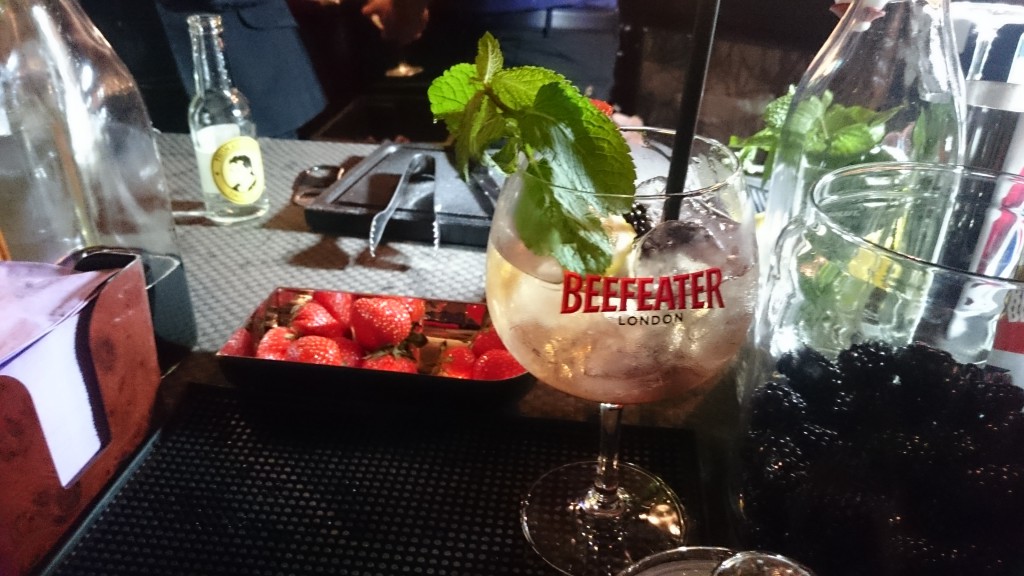 Ruby G&T
40 ml Beefeater Dry
20 ml crème de cassis
10 ml freshly squeezed lemon juice
ice cubes
tonic
Decorate with lemon zeste, black currants and mint leaves.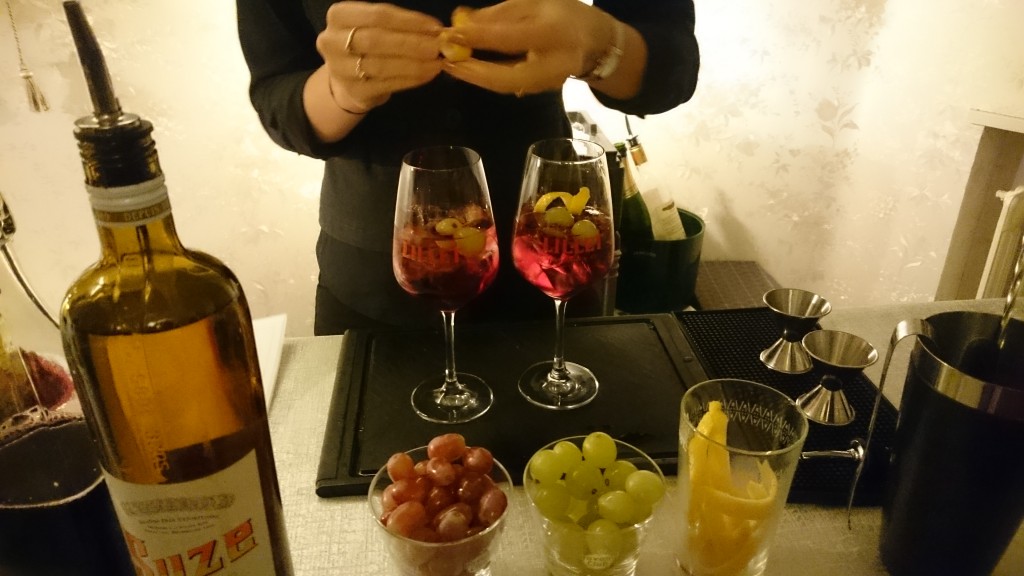 Elite
40 ml Lillet Blanc
40 ml white grape juice
80 ml Perrier-Jouët champagne
Decorate with white grapes and lemon zeste.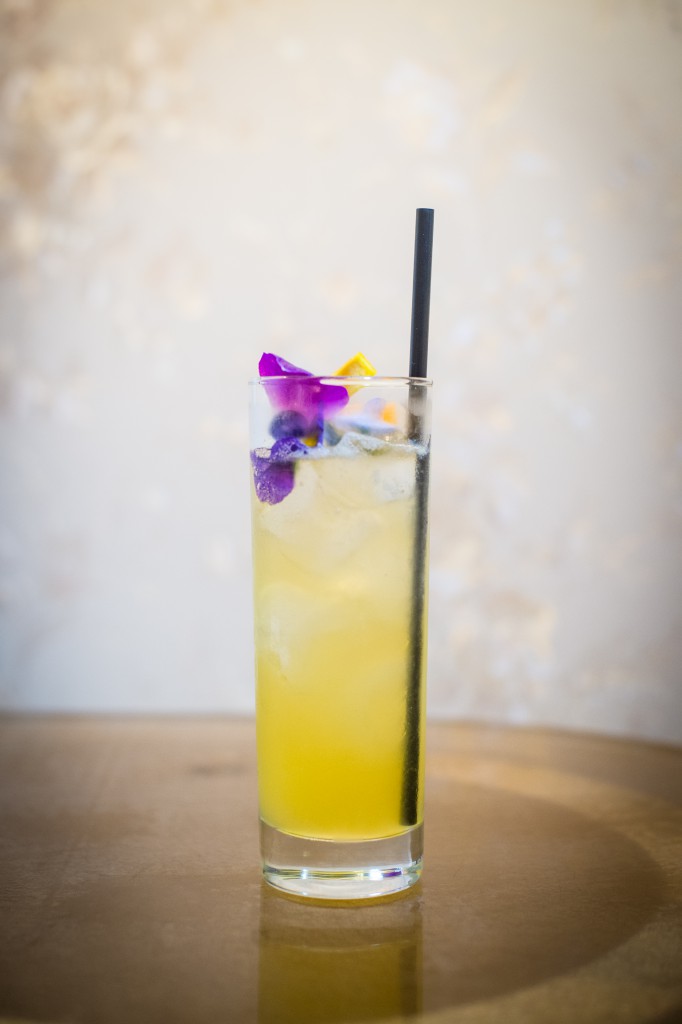 Air Mail
20 ml honey syrup
20 ml freshly squeezed lemon juice
30 ml Havana Club Especial rum
Shake all the ingredients in a shaker with a couple of ice cubes until the shaker feels very cold, strain in a long drink glass and fill up (and stir) with
80 ml champagne G.H. Mumm Brut Cordon Rouge
Basil Ginger
Last weekend someone gave me the recipe of another ginger inspired cocktail, but you're on uncharted territory so to speak. Do let me know if it turns out to be a winner.
some basil leaves
some ginger wedges
2 cl lime juice
ice cubes
5 cl gin
tonic
Ever since I've been unemployed, the invitations for all kinds of alcoholic sampling events keep coming in. Not sure if there is any correlation between my employment status and the invitations but who's complaining, right?
Image Credits: Ann Glorieus, anonymous, Pernod Ricard Belgium.